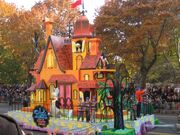 Between the years 2006 and 2008, the Macy's Thanksgiving Day Parade featured a float sponsored by Cartoon Network representing the characters from Foster's Home for Imaginary Friends. The characters Bloo, Wilt, Coco, Eduardo, Cheese and Mr. Herriman - were puppets made for the float by an Atlanta-based puppetry troupe. In 2007, Bloppy Pants, Jackie Khones and Fluffer Nutter were added as supplimental characters.
Each year, the imaginary friends cover a pop song about friendship when the float arrives in front of Macy's Herald Square store. Bloo, Wilt, Coco and Eduardo performed the Beatles' "With A Little Help From My Friends" in 2006; Cheese made a silent cameo at the end. The following year, Cheese covered Queen's "You're My Best Friend" and screamed his catchphrase, "I like chocolate milk" at the end.
In 2008, the group began to sing "Best Friend"—originally recorded by Harry Nilsson as the theme song to The Courtship of Eddie's Father—when the song suddenly stopped, and Rick Astley came out of the house lipsyincing "Never Gonna Give You Up", effectively Rickrolling everyone watching the parade. At this time, Cheese exclaims, "I Like Rickrolling!"
Musical Selections