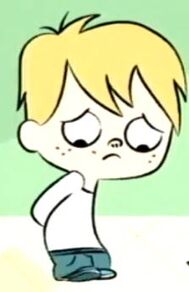 Gregory is a little boy who created Bendy. His first appearance is Adoptcalypse Now, He and his parents appeared again in Everyone Knows It's Bendy and he and his parents make a cameo in Neighbor Pains.
Trivia
Despite to his short appearance in the episode, it is highly implied that he actually framed Bendy for his actions, causing his parents to kick Bendy out of their home, this is more explicity to see the clear regret in his face when his parents mentioned all the actions of Bendy in their home.

If this theory is correct, then Gregory would be the true culprit and is responsible for Bendy setting up Bloo and his friends, because of his cowardice to confess his naughty actions and his inability to stop it, caused Bendy to believe that he could frame others for actions that they didn't commit. It also caused Bendy to harbor a resentment that resulted in him framing others for his misdeeds to feel himself better.